INTERVET WB MOBILITIES – FROM BOSNIA & HERZEGOVINA TO MARIBOR, SLOVENIA
8th May 2023
Nejra, Nermina, Merdija and Hena are from Bosnia & Herzegovina and in the framework of Intervet Western Balkans project they spent a learning mobility period in Maribor (Slovenia), hosted by project partner ZNI – Zavod za Novodobno Izobrazevanje. At the end of their mobility they shared their impressions about the whole Erasmus experience. 
Nejra
I am Nejra, a student of the High School of Business, Commerce and Trade from Sarajevo. First of all, I would like to thank IUS, through which I found out about this project, and my professor Velida Begović, on whose recommendation I applied. I am very happy that I am a part of this project.
Despite small problems with accommodation in the first 4 days, we solved the problem on our own initiative, and we were moved to a Student Home that suited our conditions.
My job was in the company E-racuni d.o.o., it is a company for online business programs. But that's not all, I learned about many applications such as: LibreOffice, WordPress, GNU program, Hunter application, etc… Believe it or not I learned this in just one month. This practice brought me a lot.
Once again, a big thank you to the IUS and ZNI organizations through which I got here and learned much more than the practice itself.
This is a wonderful and very useful experience that I would like to repeat in the future.
I hope that a large number of students and young people from my country will join this project and open doors for themselves in the future.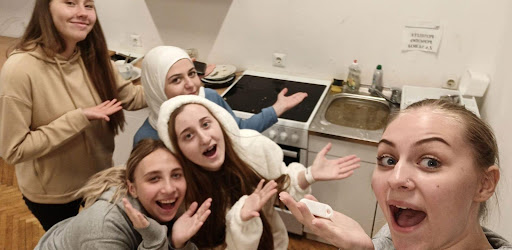 Nermina
For me it was an amazing time in Maribor.
I worked at UKC Maribor at traumatology, my work was hard but at the same time I learned a lot of things. My work was patient care before and after surgery, feeding patients, changing bed sheets, measuring vital functions, driving patients to CT and RTG. Also, I learned how to spend money and be independent.
After just one month I learned everything about my profession and for me this is a huge experience.
I think this exchange project is amazing for young people to became independent, more confident and to find themselves.
I'm so happy that I have the opportunity to complete all expectations and goals.
Merdija
Hi, my name is Merdija and I come from Bosnia Herzegovina – Sarajevo. I was here on mobility for one month in Slovenia (Maribor). I was working in Boost up company as specialist for digital marketing. My mentor was Anja Cimerman and I'm so glad that I was able to meet and work with her. I can clearly say that I had the best one month in my life and that my dream came true, because I always wanted to do something like I did here.
We also had trip to Pohorje and there was so beautiful time with friends.
I loved Maribor as a city and I want to stay here more. I like people here, weather and the peace in the city.
I'm glad that I had a opportunity to be a part of IUS life project and I can't wait for the next students exchange.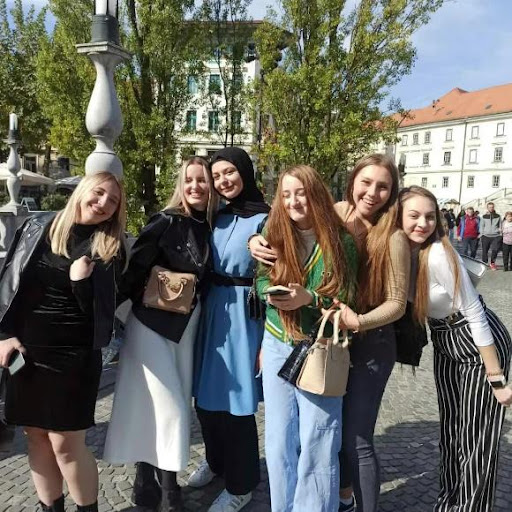 Hena
My name is Hena and I worked at UKC Maribor for one month. I worked at gastroenterology, and I loved it.
I can say only the best things about my job. It was hard because it was my first work experience, but I enjoyed every second of it.
I learned a lot of new things and I learned how to be better in my profession.
During my education in Bosnia I never had experience with patient care, feeding and similar things but here I learned all of it.
It makes me sad that we had some accommodation problems during the first few days, but I'm glad that it was solved very quickly.
I really improved my communication skills and I'm very happy that I started to communicate and talk in Slovenian