Ana Zacharian on the benefits of fostering VET skills, mobility and cooperation
15th December 2020
Last week we interviewed Ana Zacharian, co-founder and CEO of Intervet WB project partner Albanian Skills and Albania's Ambassador for 2021 at the European Vocational Skills Week. Here's what she told us about her experience in the VET world.
– Hello Ana and thanks for accepting our invitation. Can you please introduce yourself (who you are, your activity and position) and the organisation you work in? 
Ana:  Enthusiastic and dream achiever, start-upper, promoter, founder, coach, mentor, leader.
Initiator, Co-Founder and CEO in Albanian Skills – National Association for Skills Competitions
Project Manager –Albanian Partner in EU funded project Intervet WB project 
Freelancer /National expert and mentor in Vocational Education and Training, Labour Market and Private Sector Engagement, Entrepreneurship and Business management services including Innovation in Education and Non-traditional Learning Trainer, Youth Mentor, Coach and Trainer.
Master in Engineering, with additional studies in business administration and latest qualifications in private sector growth strategies, in Sweden and postgraduate courses in urban planning from Erasmus Holland.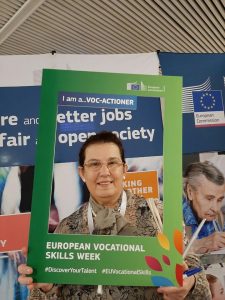 About 30 working experience in industry sector as engineer, in education sector as teacher, in international cooperation (EU,ILO, Swiss & German Cooperation Offices, KfW, etc) field contributing in different project management and senior roles including administration, finances, acquisitions and monitoring, in many programs supporting education and vocational training, entrepreneurship and innovation. 
After my service as a Volunteer in World Skills Leipzig 2013, together with some international and local experts I initiated the Albanian Skills initiative. This unique start-up is a promotion and collaboration platform for young talents and it fosters innovative ways of learning and enterprising of skills through organizations of yearly skills competitions similar to WorldSkills from July 2014. 
From 2018, I initiated Albanian Skills Week inspired by European Vocational Skills Week
– What does it mean to be an ambassador for you? 
Ana:  For me, it is both an honour and responsibility to give to the promotion of VET/ Skills Week a positive light and a strong voice to help the raise of the awareness for skills and VET education in my country and in the region. The role model we play in the society is very important for the future of our children and young people who are equally or maybe even more than us worried about today and future uncertainty. This invests us, together with VET institutions, teachers, families, stakeholders with an ultimate role model to continue inspiring, motivating, teaching, mentoring, preparing young generations for these global challenges that are in front of humanity and also affecting VET systems particularly.
– You participated to the online sessions of VET skills as a speaker during the VET Internationalisation – What are the benefits and challenges of internationalisation cooperative network in your country? 
Ana:   Yes, and it was an honour to represent the local and regional voice in that panel of excellent speakers. Skills and work in the frame of the globalized world, economy and markets which are demanding increasingly internationally oriented professionals have neither borders nor nationality and as such the internationalisation of the VET systems or making VET international is key because it helps VET staff, students and learners get oriented to the European and World context, labour skills needs and standards. As such, there is a great need and interest from schools and teachers to cooperate with international programmes in our country which are active in the city or school basis but the cooperation between VET schools, providers, institutions should prevail in order to ensure a better harmonisation of the international cooperation even among schools without any international support. The international VET community in the country and WB should play a role model in this aspect
– What will be the benefits of promoting skills and mobility in your country? 
Ana:   The mobility opportunities in our country will definitely contribute to:
More international competences for VET learners and implement them in their schools or businesses when are back in the country, with their peers and friends
More intercultural knowledge and experience us as the project partner in the implementation of INTERVET
More VET knowledge and experience for the VET system, institutions and stakeholders while cooperating and sharing with other EU and WB countries.
– How do you see the future VET Skills at a regional, local and national level? 
 Ana:   From some years, I am glad to see the raise of the importance for VET Skills in our society, in local and national levels. This goes also in line with VET European initiatives. Governments, ministers, institutions, schools and families are talking proudly more about skills and the importance of VET. More parents are now bringing their children to VET schools and who look VET as the first choice of education. But we need private sector, industries to believe more in VET and support the entire process of VET schooling as a natural part of it. VET and business cooperation, the link between the world of education and the world of work is of paramount importance for VET-quality and attractiveness. And enhancing this VET –business cooperation should be on the top of each VET agenda, which ultimately will contribute to improving skills the business need and thus supporting an increase of employment or self-employment opportunities for young people locally, nationally and regionally. .  
– What message would you have for INTERVET WB project?  
Ana:   As project partner in the implementation of the INTERVET Western Balkans, I must proudly reconfirm the importance of this project for Albanian VET staff and learners. The intercultural exchange accompanied with technical skills acquired through mobility schemes in other EU countries will expose VET staff and learners to more learning and training opportunities in: language and intercultural skills, and international professional competences. That is why, even with some difficulties experienced during the application process for the first calls for VET staff and learners' motilities, a high participation rate of applicants for these first calls was evident and it gives a nice feeling of doing the right thing for VET systems in our countries. 
– Thanks Ana, we wish you all the best!
Valentina Chanina, EfVET