THE INTERVET WB TRAINING ASSIGNMENT ON MOBILITY HELD IN TIRANA
10th May 2022
Intervet Western Balkans is a 3-year pilot project for the internationalization of vocational education and training systems in the Western Balkans, which aims to create opportunities for the mobility of learning in vocational education institutions of the Western Balkans and improve the culture of mobility for learning in the field of VET.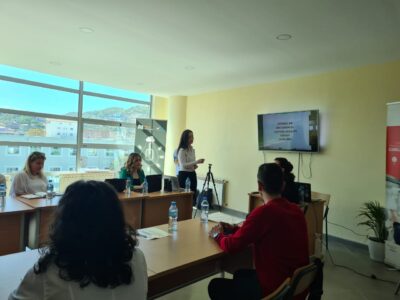 In the framework of INTERVET WB, Uniser, project coordinator Intervet WB and project partner Albanian Skills in cooperation with the National Agency for Employment and Skills (NAES) held a training on "Mobility for learning through INTERVET WB and Erasmus + 2021-2027" on April 26th, for members of development units and heads of vocational education institutions in Albania as well as representatives of NAES in Tirana. 
About 40 participants in a mixed online format through the Zoom platform and 8 of them near the premises of the Electrical Technical School 'Gjergj Canco', Tirana were introduced to the process of "mobility" of students and teachers, procedures and processes used by INTERVET (during mobility) as well as the opportunities that exist to plan and organize the mobility of learning by the institutions of education and vocational training within the Erasmus + 2021-2027 Program but also within the various mechanisms offered by the European Union.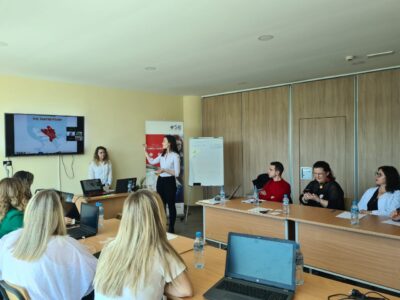 The representative from Uniser and coordinator of Intervet for Albania, Giulia Quaglietti presented concretely:
Familiarity with the Intervet project and its objectives:
Results so far

Application process (open discussion with participants)

Selection process

Pre-departure training- How to prepare a pupil/student / for a mobility experience

Organizing learning during mobility

Recognition and Evaluation

Familiarity with Erasmus + programs

The importance of Erasmus + programs for VET institutions, students, and their teams.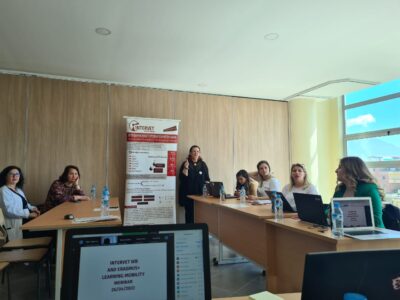 To be noted are the high interest shown by the participants regarding the capacity building of VET institutions for their involvement in the INTERVET WB project and the Erasmus + calls as well as the experiences and evaluations shared by the teachers participating in Shadow Work. /Job Shadowing but also of their students participating in professional internships abroad within INTERVET WB. They said that their experiences remain very valuable, and as one of the teachers said, they consider it "a life experience". Mobility in one of the host countries has been very valuable because they have managed to see a different reali*ty, reflect on their work, and be enriched with different teaching methods that are being applied in their schools.
INTERVET WB will continue the work and commitment to capacity building VET systems related to the mobility of students, teachers, and leaders of educational institutions as a valuable contribution to the internationalization processes of VET systems in the Western Balkans.