UNISER HELD A WEBINAR ABOUT THE DEVELOPMENT OF ERASMUS+ ACCREDITATIONS
15th July 2022
On the 4th of July, the UNISER office for the development of the Western Balkans organized the Webinar – Support in preparing and developing ERASMUS + accreditation applications for all interested organizations and institutions in Serbia.
This development opportunity aimed to initiate the exchange of knowledge and experiences on the subject of the Erasmus+ program and initiatives for the internationalization of school curricula.
The presentations were led by a team of experts from the UNISER project office, Luca Lombardi, Nikola Vrgović, and Ana Bartoli. Also, three accredited schools participated as panelists:
Primary and secondary school (VET + Gymnasium) with student dormitory "Petro Kuzmjak" from Ruski Krstur;
School of Economics "May 9" from Sremska Mitrovica;
School for Visually Impaired Students "Veljko Ramadanović" from Belgrade.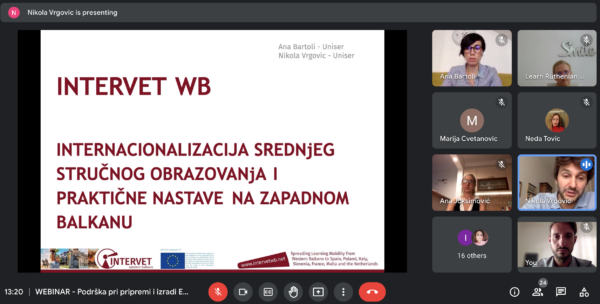 Twenty-seven participants registered for the Webinar, twenty-four of them from VET schools, one from mixed schools (VET + Gymnasium), one from Gymnasium, and one from primary school.
The 3-hour Webinar consisted of 2 parts:
1. Introductory part (2 hours, in the Serbian and English languages)
– Introduction and presentation of the UNISER and INTERVET WB project (presentations by UNISER experts Ana Bartoli and Nikola Vrgović).
– Overview of the Erasmus + program focusing on accreditations (presentation by UNISER expert Luca Lombardi).
– Exchange of knowledge and best practices in the form of conversations with the accredited schools (PANELIST SCHOOLS)
– Questions and Answers.
2. Accreditation Writing Workshop (1 hour, in the English language)
– Tools and methodologies that UNISER offers free of charge to organizations and institutions to support the development of accreditations and proposals for KA1 & KA2 projects (presentation by UNISER expert Luca Lombardi).
– Questions and Answers.
As the outcome of participating in the Webinar, twenty-seven participants and five panelists received all three presentations, the Certificate of Participation, UNISER's Job shadowing catalog, and the Templates of successful applications for accreditation submitted in previous years.